Trotlines - Floating Trotlines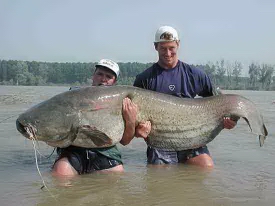 Texas state record catfish - 147 lbs. WOW!

Huge Catfish caught at King Kat Finals as reported by Matt Williams
Catfish Treats Super Bait
(Item #840920)
Bait for Channel Cat- Blue Cat- Buffalo- Carp-Bream.
Approx. 100 Pieces

Floating Trot line
(Item #846116)
This trot line is similar to the old L&H Trot line that we used to have on our site. The closest to it we have found. It is floating and measures 120 ft. long. It has plastic pellets melted on the twine to hold the swivels in place. Just like the old L&H trotline!
300 lb. test main line
Stages approx. 4' apart.
Includes 25 hooks and swivels.

Floating Trot line
(Item #669917)
This trot line is similar to the old L&H Trot line that we used to have on our site. The closest to it we have found. It is floating and measures 120 ft. long. It uses brass clips to hold the swivels in place.

Trot Line
(Item #669918)
Measures 150' with 25 eagle claw hooks.

Trotline
(Item #669916)
Measures 100' with 25 eagle claw hooks.

Magic Bait Trotline
(Item #847024)
New concept trotline clips, swivels 360 degrees on main line. Leader lines swivel 360 degrees. Package contains the following:100' main line/320lb test,20 size 4/0 hooks and leader line, 20 magic bait trotline clips, 20 swivel bushing's,20 double string eyelet's, assembly instructions.

Trotline Bell
(Item #799852)
Attaches to your trotline so you can go sit back, drink a beer and wait for the fish to bite.

Fish Cleaning & Cooking
|
Gill Nets
|
Trotlines
|
Fishing Gadgets
|
Fishing Rod & Reel Sets
|
Hoop Nets
|
Minnow Seines
|
Turtle Traps
This Document
Was Last Modified
On Dec 29, 15

This menu takes a few moments to load, but it will enable you to move to any other page on the website in one click!

Become an Affiliate!



1-979-732-5081
esta página en español
About Heinsohn's
Find Our Products Here
Affiliate Program
Share with a Friend

Alligator heads
Aprons
Armadillos
Automotive Accessories
Babies and Kids
Bait Catching
Bake - Kitchen Ware
Band Saws
Banks
BBQ Equipment
BBQ Hickory Chips
BBQ Rub
BBQ Seasoning
Bat House
Bean Slicers
Beer Making
Beer Making Books
Bells
Beverage Making
Bird Feeders
Bird Traps
Bird Houses
Bluebonnet Seeds
Books
Bowl Choppers
Burners, Propane
Butchering
Butcher Saw Blades
Butcher Saws - Electric
Butcher Saws - Hand
Cajun Cooking
Cajun Fried Turkey
Calendars
Camp Ovens
Canning
Casings
Cast Iron Banks
Cast Iron Cookware
Cast Iron Cure
Cat Traps
Chafing Dishes
Cheese Making
Chilegrills
Chumming Game fish
Cleavers
Clogs
Clothing and Headwear
Coffee
Commercial Cookware
Commercial Curing Equipment
Commercial Mixers
Commercial Sausage Stuffers
Commercial Vacuum Machines
Contact Us
Cooking
Cookpots Large
Cooking Tools
Cookware, castiron
Cookware, commercial
Cookware, SS
Corn Recipe
Crab Traps
Crockery
Crosses
Cultivator
Cutting Boards
Deep Fryer
Deer Feeders
Deer Feeders Accessories
Dehydrators
Dominoes
Doorstops
Duster, Garden
Dutch Ovens
Electric Appliances
Electric Butcher Saws
Elec. Butcher Saw Blades
Electric Meat Grinders
Entertaining
Ethnic Cookbooks
Ethnic Cooking
Fajita Pan
Fire Pits
Fish Books
Fish Feeders
Fish Frying
Fish Nets
Fish Traps
Fishing Products
Flags
Flower Seeds
Food Preservation
Freezer Paper
French Fry Cutters
Frog gaffs
Fry Baskets
Frying Fish
Frying Tools
Game Cook Books
Game Feeders
Games
Game Traps
Garden Cart/Seat
Gardening
Garden Seeder
Garden Seeds
Gift Certificates
Gift Items
Gill Nets
Grain Grinders
Gravity Feeders
Griddles
Griddles, cast iron
Griddles, large
Grinders-Meat
Hamburger Patty Presses
Hamburger Seasoning
Health Remedy
High Wheel Cultivator
Hitch, Trailer
Hog Traps
Homemade Wine
Hoopnet
Horse Items
Horse and Tack Books
Horseshoes
Hummingbird Feeder
Hydraulic Sausage Stuffers
Ice Cream Freezers
Ice Shavers
Indoor Weathervanes
Injectors, Marinade
Jerky
Jerky Cutter
Jewelry
Juicer
Kerosene Lamps
Kettles
Kitchen Gadgets
Knives
Knife Sets
Knife Sharpeners
Kraut Cutters
Live Traps
Manual Meat Grinders
Marinade Injectors
Marinades
Meat Cubers
Meat Curing Equipment
Meat Curing Spices
Meat Grinder Parts
Meat Grinders
Meat Mixers
Meat Processing
Meat Processing Acc.
Meat Processing Safety
Meat Saws
Meat Saws
Meat Slicers
Meat Tenderizers
Meatball Making
Metal Signs Nostalgic
Mexican Cooking
Mexican Items
Minnow Seines
New Items
Noodle Making
Nostalgic Items
Nostalgic Metal Signs
Nostalgic Toys
Nutcrackers & Gatherers
Outdoor Cooking
Outdoor Utensils
Old Fashion Remedies
Pasta Makers
Pecan Gatherers
Pellet Guns
Perch Traps
Planters
Platform Cart
Popcorn Poppers
Potato Cutter
Potjie Kettles
Propane Gauge
Poultry Products
Purple Martin Houses
Recipes
Remedy Health
Root Beer Making
Rubberboots
Safety Equipment
Sausage & Jerky
Sausage Making
Sausage Spices - Mixes
Sausage Stuffers Parts
Sausage Stuffers Tubes
Sausage Stuffers
Saws - Meat Band
Scales
Seines
Serving - Entertaining
Serving Tools
Shirts
Shrimp Cleaner
Signs Nostalgic
Skillets
Skimmer
Slicers
Smokers
Snakes-Mounted
Snake Traps
Soap Making
Spices
Stainless Steel Cookware
Stainless Steel Cooking Tools
Stock Pots
Tableware
Tamale Machine
Tenderizers
Texas Crockery
Texas Stuff
Thermometers / cooking
Thermgun -IR Thermometer
Tin Signs
Tomato Juicer
Tools
Tortilla Presses
Torquoise Jewelry
Toys Nostalgic
Transfer Cages
Traps
Trotlines
Turkey Fryers
Turtle Traps
Turtle Burger
Vacuum Sealer Products
Vacuum Sealers
Vegetable Processing
Varmint Traps
Vintage Bird Houses
Washboards
Washer Pitch Game
Watering Cans
Weathervanes
Welding Equipment
Wild Bird Feeders
Wildflower Seeds
Wildlife Feeders
Wine, Homemade
Wine Making Books
Wine Making Products
Woks
Wood heaters
Wrought Iron Products

Copyright Year 2016


96 Years in Business!
For Old Time Country Values!
1-800-300-5081
Se Hablá Español
ONE YEAR GUARANTEE