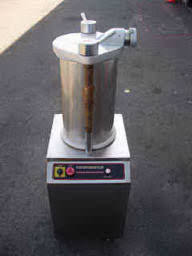 Includes automatic reverse and cooling fan
Manual for Hydraulic Sausage Stuffer
WOW!
Click here for the NEW & IMPROVED!
ProProcessor 50 lb. Hydraulic Sausage Stuffer
(Item #600900)
Designed to be powerful! Same features as the 50 lb. #699679 Hydraulic Sausage Stuffer but with a Stainless Steel Lid for Commercial Operations!
110 V.A.C., Single Phase - 1.5HP
Has 1 year Parts Replacement Warranty! Includes 5/8 Stuffing Tube.
Additional stuffing tube set available!

Warning! This sausage stuffer has a large motor! 40% larger than similar models! (Do not use with extension cord!)
Requires 30 Amp circuit & breaker.
WOW!


You can save on shipping charges if you have your equipment sent to a business that has a forklift or loading dock!
Please check box if you do not have a business address or loading dock or forklift.

LIMITED QUANTITIES!!


NEW!! ALL STAINLESS STEEL 50 lb. SAUSAGE STUFFER!!
MORE POWERFUL MOTOR 2 HP. 220 Volt


Includes automatic reverse and cooling fan
Manual for Hydraulic Sausage Stuffer
INTRODUCTORY
DISCOUNT! SAVE
$300


WOW! MORE POWER!!
Click here for the NEW & IMPROVED!

ProProcessor 50 lb. Hydraulic Sausage Stuffer
(Item #600970)
Same features as the 50 lb. #699679 Hydraulic Sausage Stuffer but with a Stainless Steel Lid for Commercial Operations!
220 V.A.C., Single Phase - 2HP
Has 1 year Parts Replacement Warranty! Includes 5/8 Stuffing Tube.
Additional stuffing tube set available!

Warning! This sausage stuffer has a large motor! 40% larger than similar models! Do not use with extension cord!
Requires 30 Amp circuit & breaker.

Designed to be powerful!


You can save on shipping charges if you have your equipment sent to a business that has a forklift or loading dock!
Please check box if you do not have a business address or loading dock or forklift.


LIMITED QUANTITIES!!






Includes automatic reverse and cooling fan
Manual for Hydraulic Sausage Stuffer


AMAZING PRODUCTION!

Click here for the NEW & IMPROVED!
ProProcessor 70 lb. Hydraulic Sausage Stuffer
(Item #600556)

Finally a large affordable Hydraulic Stuffer for Commercial Operations! Has a handy knee control that allows two hands for sausage stuffing. With this commercial sausage stuffer it will be easier to fill from top, because all the hydraulic stuffers fill from the top. Holds approximately 70 lbs .(Amounts may vary according to your product) Heavy duty construction.

Has 1 year Parts Replacement Warranty!
Similar To The 50 lb Hydraulic Stuffer!
Single Phase - 110 V.A.C., 1.5HP
Anodiized Aluminum Lid
Stainless Steel Cylinder
Food Grade Piston
Shipping Weight 300 lbs.
Speed control dial is conveniently on the front face. Sausage Stuffing Tube is 5/8"I
Additional stuffing tube set available!


Warning! This sausage stuffer has a large motor! Do not use with extension cord!
Requires 30 Amp wiring & circuit breaker.

Reduced Price!

You can save on shipping charges if you have your equipment sent to a business that has a forklift or loading dock!
Please check box if you do not have a business shipping address or loading dock or forklift.



NEW!! ALL STAINLESS STEEL 70 lb. SAUSAGE STUFFER!!
For those picky inspectors!!



Includes automatic reverse and cooling fan
Manual for Hydraulic Sausage Stuffer


HEAVY DUTY CONSTRUCTION

Click here for the NEW & IMPROVED information!
ProProcessor 70 lb. Hydraulic Sausage Stuffer
(Item #600902)
Heavy duty construction, with stainless steell lid. For our wild game hunters to our meat markets or local butcher shops this hydraulic sausage will be economical to make the best sausage link.
110 V.A.C., Single Phase - 1.5HP
Has 1 year Parts Replacement Warranty!
Stainless Steel Lid
Stuffing Tube is (5/8"). Includes 5/8 Stuffing Tube.
Additional stuffing tube set available!

Warning! This sausage stuffer has a large motor! Do not use with extension cord!
Requires 30 Amp circuit & breaker.

Reduced Price!

You can save on shipping charges if you have your equipment sent to a business that has a forklift or loading dock!
Please check box if you do not have a business address or loading dock or forklift.



NEW!! ALL STAINLESS STEEL 70 lb. SAUSAGE STUFFER!!
MORE POWERFUL MOTOR 2 HP. 220 Volt



Includes automatic reverse and cooling fan
Manual for Hydraulic Sausage Stuffer
INTRODUCTORY
DISCOUNT! SAVE
$300


WOW! MORE POWER!!

Click here for the NEW & IMPROVED information!
ProProcessor 70 lb. Hydraulic Sausage Stuffer
(Item #600971)
Heavy duty construction with stainless steel lid. For our wild game hunters to our meat markets or local butcher shops this hydraulic sausage stuffer is an economical way to make the best sausage link.

220 V.A.C., Single Phase - 2 HP
Has 1 year Parts Replacement Warranty!
Stainless Steel Lid
Stuffing Tube is (5/8"). Includes 5/8 Stuffing Tube.
Additional stuffing tube set available!

Warning! This sausage stuffer has a large motor! Do not use with extension cord!
Requires 30 Amp circuit & breaker.

Reduced Price!

You can save on shipping charges if you have your equipment sent to a business that has a forklift or loading dock!
Please check box if you do not have a business address or loading dock or forklift.






Fits All ProProcessor Hydraulic Sausage Stuffers, 3 Piece Stainless Steel Tube Set
(Item #699926)
3 piece stainless steel stuffing tube set for hydraulic ProProcessor stuffers #699679.
Also fits 600555, 600556, 600900, 600901, & 600902.
Sizes 1 1/4" - 3/4" - 1/2". Has 2 9/16" flange and are 8 1/2" total length! Very stoutly made!

More Hydraulic Stuffing Tubes


Fits All ProProcessor Hydraulic Sausage Stuffers, 3 Piece Stainless Steel Sausage Stuffer Tube Set
(Item #618516)
3 piece stainless steel stuffing tube set for hydraulic sausage stuffer #699679. Also fits 600555, 600556, 600900, 600901, & 600902.
Sizes 3/4"- 1" - 1/2". Very stoutly made!




Fits All ProProcessor Hydraulic Sausage Stuffers, 3 Piece Stainless Steel Sausage Stuffer Tube Set
(Item #699927)

3 piece stainless steel stuffing tube set for hydraulic sausage stuffer #699679.
Also fits 600555, 600556, 600900, 600901, & 600902.
Sizes 3/4"- 1" - 1 1/2".
Very stoutly made!


Video of Talsa Sausage Stuffers

Talsa 26lb. Hydraulic Sausage Stuffer
(Item # 699670)
This heavy duty stainless steel sausage stuffer with an aluminium lid offers precision and ease of use. The body is of solid construction. Can be used for home or business it is the economical way to make your sausage. The piston is perfectly sealed and removeable. Disassembly is simple and allows for easy cleaning. Three stainless steel stuffing tubes are included.12mm, 20mm,30mm 30" X 18" X 45"
220 V.A.C., 1 phase - 1.75HP

You can save on shipping charges if you have your equipment sent to a business that has a forklift or loading dock!
Please check box if you do not have a business address or loading dock or forklift.

Talsa 26lb. Hydraulic Sausage Stuffer
(Item #699659)
3ph - 220 V.A.C., .75HP
You can save on shipping charges if you have your equipment sent to a business that has a forklift or loading dock!
Please check box if you do not have a business shipping address or loading dock or forklift.




Talsa 48lb. Hydraulic Sausage Stuffer 220 3 ph
(Item # 600930)
This heavy duty all Stainless Steel sausage stuffer offers precision and ease of use. The body is of solid construction. Can be used for home or business. It is the economical way to make your sausage. The piston is perfectly sealed and removeable.

Disassembly is simple and allows for easy cleaning. Three stainless steel stuffing tubes are included.12mm, 20mm,30mm 30" X 18" X 45"
220 V.A.C., 3 phase - 1.5HP

You can save on shipping charges if you have your equipment sent to a business that has a forklift or loading dock!

Please check box if you do not have a business address or loading dock or forklift.

Talsa 48lb. Hydraulic Sausage Stuffer
(Item #600931)
All Stainless Steel
Stainless Steel Lid
1 phase - 220 V.A.C., 1.75HP
You can save on shipping charges if you have your equipment sent to a business that has a forklift or loading dock!

Please check box if you do not have a business shipping address or loading dock or forklift.






Talsa 65lb. Stainless Steel Hydraulic Sausage Stuffer 220 V.A.C. 1 ph. On wheels.
(Item # 699671)
These heavy duty sauasge stuffers offer precision and are easy to use. The body is of solid construction. The piston is perfectly sealed and removeable.
Has aluminum lid & piston. Disassembly is simple and allows for easy cleaning. Three stainless steel stuffing tubes are included.12mm, 20mm,30mm 30" X 18" X 45"
1 phase - 220 V.A.C., 2.25HP
You can save on shipping charges if you have your equipment sent to a business that has a forklift or loading dock!
Please check box if you do not have a business address or loading dock or forklift.

Talsa 60lb. Hydraulic Sausage Stuffer all Stainless Steel
(Item #600932)
Stainless Steel body and Lid.
3 Phase - 220 V.A.C., 1.5 HP
You can save on shipping charges if you have your equipment sent to a business that has a forklift or loading dock!
Please check box if you do not have a business address or loading dock or forklift.


Talsa 100lb Hyrdaulic Sausage Stuffer
Includes stainless steel lid!!



WOW!

Talsa 100 lb. SS Hydraulic Sausage Stuffer 3 ph.
(Item #600923)
Stuffing your favorite sausage links will be a breeze with this machine. Economical with a easy to use operation. This machine will give you the best sausage link in no time at all, making you or your customers happy for a job well done in a timely manner.


Reinforced pressure to work with the densest or coldest mixtures
Speed control knob situated near the operator for precise adjustment
Release of the knee lever causes piston decompression and instantly stops the product flow
Double sealed piston allows for effortlessly self-removal
Separate hydraulic oil reservoir
Wheels and handle for easy displacement
Easy Cleaning
3 Standard Stainless Steel stuffing tubes 12,20, & 30mm
Improved, robust, meat barrel with self removable sealed piston
Automatic lid lock without handles
Pressure Gauge

2 1/4 HP
220 V.A.C. 3 phase - other voltages available at extra cost

You can save on shipping charges if you have your equipment sent to a business that has a forklift or loading dock!
Please check box if you do not have a business address or loading dock or forklift.


Talsa 100lb Hyrdaulic Sausage Stuffer
Includes stainless steel lid!!



WOW!

Talsa 100 lb. Hydraulic Sausage Stuffer 1 ph. 220
(Item #600959)


Reinforced pressure to work with the most dense or coldest mixtures
Speed control knob situated near the operator for precise adjustment
Release of the knee lever causes piston decompression and instantly stops the product flow
Double sealed piston allows for effortless self-removal
Separate hydraulic oil reservoir
Wheels and handle for easy displacement
Easy Cleaning
3 Standard Stainless Steel stuffing tubes 12,20, & 30mm
Robust rectified fixed meat barrel with self removable sealed piston
Automatic lid lock without handles
Pressure Gauge

2 1/4 HP
220 V.A.C. 1 phase

You can save on shipping charges if you have your equipment sent to a business that has a forklift or loading dock!
Please check box if you do not have a business address or loading dock or forklift.




Talsa Portioner
(Item #600929)
Portioning Device for Talsa Sausage Stuffers
Will release a measured amount out each time.
Can only be used on Talsa brand sausage stuffers
All Stainless Steel




Optional Talsa 11" Tube Set
(Item #600957)
Replaces the original 7.5" tubes with initial order of New Talsa Stuffer
Must be placed with order for Talsa Stuffer and you will receive 11" tubes instead of 7.5".




| | | |
| --- | --- | --- |
| Customs | | Customs & Brokerage fees prepaid (Use quantity for Amount) |

100lb Hydraulic Sausage Stuffer
WOW!

Click here for Manual
In Stock Now!!


GREAT PRICE!!

100 lb. Hydraulic Sausage Stuffer 220V/3Ph
(Item #600960)
Can fill in succession and be highly efficient. Will make small to large sausages. No need to stop and fill. Just lower the piston to suck in the meat in the cone.
Stainless Steel
Easy to Operate
Water Proof and easy to Clean
Dims: 45"x28"x69"
Voltage: 220V/60HZ
3 Phase - Powerful
Weight: 445 lbs.
Power 2.2kw - 15kw
3 HP
Production Capacity: 200-1100lbs/hr.
Volume of Barrel: 66 - 110 lbs

No more lifting the lid to fill more meat! Just dump the meat in the cone. Fills with no air bubbles.

Comes with 2 tubes - Your choice - We stock 1 1/4",1", 3/4", 5/8", & 1/2".

You can save on shipping charges if you have your equipment sent to a business that has a forklift or loading dock!
Please check box if you do not have a business address or loading dock or forklift.




120L Pneumatic Sausage Stuffer
Highly Efficient


Click here for Manual
Now in Stock!!


GREAT PRICE!!

120 L Pneumatic Sausage Stuffer 110V/1Ph*
(Item #600965)
Can fill in succession and be very highly efficient. Will make small to large sausages. No need to stop to fill.
Portions and twists!!
Stainless Steel
Easy to Operate
Water Proof and easy to Clean
Dims: 25.5"x25"x56"
*Requires Air Compressor
.9 Mpa - 1.2Mpa
Weight: 400 lbs.
100 links per minute
20 grams to 1.1 lbs per link
110 volts ac
Tube height 33 inches
Tubes 1/2", 5/8",3/4" , 1" ,1 3/8"

No more lifting the lid to fill more meat! Just dump the meat in the cone.

You can save on shipping charges if you have your equipment sent to a business that has a forklift or loading dock!
Please check box if you do not have a business address or loading dock or forklift. Check if your delivery location falls into any of these categories.
Non-Commercial Delivery - Add $100
No Loading Dock or Forklift - Requires Liftgate - Add $90
Canadian Delivery - Add $100
Hawaii & Alaska- Add $450










Great Price!!


Video of Electric Sausage Stuffer


Click here for Manual
click here for parts
ProProcessor 30 lb. Electric Sausage Stuffer
(Item #610534)
This 30 lbs. Stainless Steel Electric Sausage Stuffer is designed for high performance, Ssausage stuffing motor develops plenty of torque and can push 30 lbs. of meat through a stuffing tube in less than 8 minutes. The automatic gearbox then lets you raise the piston to full height in just over a minute. This 30 lbs. electric model features an innovative cylinder locking system on the base to prevent any shifting during use. Similarly, it has also been given extra supports near the base to maximize its stability.

Work at your comfort level. Use a slower speed for snack sticks so you don't have casing blowouts. A faster speed can be used for larger size casings.

Push-Button Control: by pressing the "Decline" button your stuffer starts working instantly!
Limit Switch: Stuffer automatically shuts off when the piston is either raised all the way for filling or when it is lowered completely after the casing is stuffed. When the piston reaches bottom, it automatically returns to the top for refilling. Safety Features: Motor housing is completely enclosed.
304 Series, 18ga Stainless Steel Cylinder - Food Grade, Won't Rust!
Stainless Steel Base with Holes for Attachment to Tabletop or Countertop
Precision made steel gears
Food-Grade Silicone O-ring w/Stainless Steel Piston
4 Stainless Steel Stuffing Tubes: 11/16", 7/8", 1 1/2", 1 5/8" Diameters
CE Approved
Base Dimensions: 17" L x 13" W
Cylinder Dimensions: 19" H x 10 1/4"
Overall Height: 31"
150 Watt Motor
110V/60 Hz








Amazing Output!!



Electric Sausage Stuffer 30lb
(Item #610532)
This 30 lbs. Stainless Steel Electric Sausage Stuffer is designed for high performance, Our foot-operated sausage stuffing motor develops 150 pounds per foot of torque and can push 25 lbs. of meat through a stuffing tube in less than four minutes. The convenient foot switch lets you control how fast you want to go and leaves both your hands free to keep up with this amazing output. The automatic gearbox then lets you raise the piston to full height in just over a minute.

This 30 lbs. electric model features an innovative cylinder locking system on the base to prevent any shifting during use. Similarly, it has also been given extra supports near the base to maximize its stability.

Work at your comfort level. Use a slower speed for snack sticks so you don't have casing blowouts. A faster speed can be used for larger size casings.

Food Pedal or Push-Button Control: One easy connection lets you work the stuffer with the food pedal. If you feel more at ease, the foot pedal can instead be disconnected by pressing the "Auto Up" button your stuffer starts working instantly!

Limit Switch: Stuffer automatically shuts off when the piston is either raised all the way for filling or when it is lowered completely after the casing is stuffed. Safety Features: Motor housing is completely enclosed and a tube is supplied to cover the gear bar when in operation or for storage.


304 Series, 18ga Stainless Steel Cylinder - Food Grade, Won't Rust!
Stainless Steel Base with Holes for Attachment to Tabletop
Precision made steel gears
Food-Grade Plastic Piston
3 Plastic Stuffing Tubes: 11/16", 7/8", 1 1/4" Diameters
USDA Approved
Base Dimensions: 16" L x 10 1/2" W
Cylinder Dimensions: 20 3/4" H x 7 3/4" dia.
Overall Height: 33"
15 Volt DC Regenerative Control
150 Watt Motor
110V/60 Hz
1/10 HP




25 lb. Sausage Stuffer
(Item #610531)
This Sausage Stuffing Machine will provide you with optimal performance and durability for years of loyal, trouble-free service. The wider base increases stability, and this entire unit is supported by two electroplated rods.

Has a 2-speed gear system model, allowing you to comfortable stuff sausage and quickly crank the piston back.

Stuffing tubes provided are appropriate for stuffing almost any kind of sausage, ranging in size.

304 Series, 18 gal Stainless Steel Cylinder-Food Grade.
Stainless Steel Base with Holes for Attachment to Table Top.
Food-Grade Plastic Piston.
3 Plastic Stuffing Tubes: 11/16", 7/8", 1 1/4" Diameters.
Overall Height: 28 1/2"
Base: 16"L x 10 1/2"W
Cylinder: 17"H x 7 3/8" dia.




Saves Time!!
Steaker
(Item #645356)
Makes hamburger patties right out of your grinder. Patty forms on paper- use enclosed scissors to cut pattys to suit and stack 'em up. Saves lots of time! Select the proper adapter to fit your grinder below.

**Also makes jerky and snack sticks**.




Steaker Adapter
(Item #645645)
This special addapter allows the Steaker to be used with your particular hydraulic stuffer. Please contact us upon order to let us know your stuffer model.




Mystik Hydraulic Jack Oil
(Item #741114)
Mystik Hydraulic Jack Oil is a very low viscosity fluid providing extra low friction in hand- or foot operated hydraulic systems. It reduces the effort required and allows jack shafts to close more quickly and completely when released. It is treated with antirust, antiwear, antioxidant, and antifoam additives. It also contains low wax content and low aniline point oils to give seal swell and softening to retard leakage and provide a naturally low pour point. It may be used at sub-zero temperatures in motorized hydraulic systems. It also has applications as a high speed spindle oil and a low temperature lubricant. Use with 30lb., 50lb., 70lb. Hydraulic Sausage Stuffer.
1 Quart




6 Piece Cleaning Brush Set
(Item #633012)
Great for cleaning:
*All Meat Processing Equipment
*Meat Grinders
*Sausage Stuffers
*Jerky Making Equipment
*Many Other Uses




Manual Stuffer Assembly

THIS SAUSAGE STUFFER IS BIG!!!

40 lb ProProcessor Vertical SS Sausage Stuffer
(Item #600565)
New Heavy Duty Sausage Stuffers By ProProcessor
Easy to use and offers a wide variety of benefits.

Now you can easily fill poly meat bags or stuff casings in your own home!

Perfect for home sausage making, and for restaurants, grocery stores, and even very small commercial processors or test kitchens. Easy loading Stainless Steel Canister
Dual Speed Steel Gears for powerful stuffing and rapid refilling
Includes 4 Stainless Steel Stuffing Tubes 14mm or 5/8 inch - 20mm or 7/8 inch - 30mm or 1 1/4 inch - 36mm or 1 /2".
One year Parts Warranty!

READY TO SHIP!




For Commercial Meat Mixers - Click Here!

Lubri-Film Plus
(Item #700150)
Use this where any food handling equipment needs to be lubricated.




Food Grade Silicone Spray
(Item #699570)
Stops sticking and prevents rust formation on food packaging and processing equipment. This product is authorized by the U.S.D.A. for federally inspected meat and poultry plants and for incidental food contact.
Spray can.



Click Here For Sausage Mixes
Click Here For Sausage Stuffing Recipes
Click Here For Spices & Cures for Sausage Stuffing
Click Here For Sausage Casings & Twine
Click Here For Vacuum Sealing Products
Click Here For A Story Of Traditional Sausage Making
Sausage Stuffing Tube Menu

Home | Meat Grinders | Meat Grinder Parts | Sausage Stuffers | Meat Tenderizers | Vacuum Chamber Sealers | Manual Meat Grinders Meat Slicers | Electric Butcher Saw Blades | Electric Butcher Saws | Books & Videos | Sausage Spices | Meat Mixers | Bowl Choppers | Knives | Patty Presses | Wrapping Paper & Accessories | Sausage Casings & Twine | Meat Curing and Smoking | Site Map | Xml Sitemap | Video Sitemap

This Document

Was Last Modified

On Apr 10, 18

This menu takes a few moments to load, but it will enable you to move to any other page on the website in one click!

Become an Affiliate! 1-979-732-5081 esta página en español
About Heinsohn's
Find Our Products Here
Share with a Friend
Agricultural Products

Alligator heads
America Tin Signs
Animal Hooks
Animal Tin Signs
Antique Jars & Caps
Aprons
Armadillos
Automotive Accessories
Babies and Kids
Bait Catching
Bake - Kitchen Ware
Band Saws
Banks
BBQ Equipment
BBQ Hickory Chips
BBQ Rub
BBQ Seasoning
Bat House
Bean Slicers
Beauty Care
Beer Making
Beer Making Books
Bells
Beverage Making
Bird Feeders
Bird Traps
Bird Houses
Bluebonnet Seeds
Books
Bowl Choppers
Brass Plaques
Burners, Propane
Butchering
Butcher Saw Blades
Butcher Saws - Electric
Butcher Saws - Hand
Cajun Cooking
Cajun Fried Turkey
Calendars
Camp Ovens
Candles
Canning
Cars and Automobile Signs
Casings
Cast Iron Banks
Cast Iron Cookware
Cast Iron Cure
Cat Traps
Chafing Dishes
Cheese Making
Chewbeads
Chilegrills
Chumming Game fish
Cleavers
Clogs
Clothing and Headwear
Coffee
Commercial Cookware
Commercial Curing Equipment
Commercial Food Dehydrators
Commercial Mixers
Commercial Sausage Stuffers
Commercial Vacuum Machines
Contact Us
Cookbooks
Cooking
Cookpots Large
Cooking Tools
Cookware, castiron
Cookware, commercial
Cookware, SS
Corn Recipe
Crab Traps
Crockery
Crosses
Cultivator
Cutting Boards
Deep Fryer
Deer Feeders
Deer Feeders Accessories
Dehydrators
Dominoes
Doorstops
Drive to Heinsohn's
Duster, Garden
Dutch Ovens
Electric Appliances
Electric Butcher Saws
Elec. Butcher Saw Blades
Electric Meat Grinders
Entertaining
Ethnic Cookbooks
Ethnic Cooking
Fajita Pan
Fire Pits
Fish Books
Fish Feeders
Fish Frying
Fish Nets
Fish Traps
Fishing Products
Flags
Flower Seeds
Food and Beverage Tin Signs
Food Preservation
Food Products
Free Catalog
Freezer Paper
French Fry Cutters
Frog gaffs
Fry Baskets
Frying Fish
Frying Tools
Game Cook Books
Game Feeders
Games
Game Traps
Garden Cart/Seat
Gardening
Garden Seeder
Garden Seeds
Gift Certificates
Gift Items
Gill Nets
Grain Grinders
Grandma and Grandpa
Gravity Feeders
Griddles
Griddles, cast iron
Griddles, large
Grinders-Meat
Hamburger Patty Presses
Hamburger Seasoning
Hats and Caps
Health Remedy
High Wheel Cultivator
Help
Health and Fitness
Hitch, Trailer
Hog Traps
Hollywood and TV Signs
Home Decorating
Home Furnishings
Homemade Wine
Home Page
Hoopnet
Horse Items
Horse Stuff
Horse and Tack Books
Horseshoes
Hummingbird Feeder
Hydraulic Sausage Stuffers
Ice Cream Freezers
Ice Shavers
Indoor Weathervanes
Injectors, Marinade
In The Bar
In The Home
Jerky
Jerky Cutter
Jewelry
Juicer
Kerosene Lamps
Kettles
Kids
Kitchen Decor
Kitchen Gadgets
Knives
Knife Sets
Knife Sharpeners
Kraut Cutters
Lamp Parts
Leisure Time
Live Traps
Manual Meat Grinders
Map Books
Marinade Injectors
Marinades
Meat Cubers
Meat Curing Equipment
Meat Curing Spices
Meat Grinder Parts
Meat Grinders, Elec.
Meat Grinders, Manual
Meat Mixers
Meat Processing
Meat Processing Acc.
Meat Processing Safety
Meat Saws
Meat Saws
Meat Slicers
Meat Tenderizers
Meatball Making
Mechanical Banks
Metal Signs Nostalgic
Mexican Cooking
Mexican Decor
Mexican Items
Minnow Seines
New Items
Noodle Making
Nostalgic Items
Nostalgic Metal Signs
Nostalgic Toys
Novelty Signs
Nutcrackers & Gatherers
Oil Lamps
Outdoor Cooking
Outdoor Tin Signs
Outdoor Utensils
Old Fashion Remedies
Pasta Makers
Pecan Gatherers
Pellet Guns
Perch Traps
Planters
Platform Cart
Pockets Knives
Popcorn Poppers
Potato Cutter
Potjie Kettles
Propane Gauge
Poultry Products
Purple Martin Houses
Recipes
Remedy Health
Root Beer Making
Rubberboots
Rustic Wooden Items
Safety Equipment
Sausage & Jerky
Sausage Making
Sausage Spices - Mixes
Sausage Stuffers Parts
Sausage Stuffers Tubes
Sausage Stuffers
Saws - Meat Band
Scales
Seines
Serving - Entertaining
Serving Tools
Shirts
Shrimp Cleaner
Signs Nostalgic
Skillets
Skimmer
Slicers
Smokers
Snakes-Mounted
Snake Traps
Soap Making
Spices
Stainless Steel Cookware
Stainless Steel Cooking Tools
Stock Pots
Survival Gear
Tables
Tableware
Tamale Machine
Tenderizers
Texana Wrought Iron
Texas Ceramics
Texas Crockery
Texas Stuff
Texas Wood Products
Tex-idermy
The Girls Store
Thermometers / cooking
Thermgun -IR Thermometer
Tin Signs
Tomato Juicer
Tools
Tortilla Presses
Torquoise Jewelry
Toys Nostalgic
Transfer Cages
Traps
Trotlines
Turkey Fryers
Turtle Traps
Turtle Burger
Vacuum Sealer Products
Vacuum Sealers
Vegetable Processing
Varmint Traps
Vintage Bird Houses
Washboards
Washer Pitch Game
Watering Cans
Weathervanes
Welding Equipment
Wild Bird Feeders
Wildflower Seeds
Wildlife Feeders
Wine, Homemade
Wine Making Books
Wine Making Products
Woks
Wood heaters
Wood Stoves
Wrought Iron Products
Your Security


Copyright Year 2017