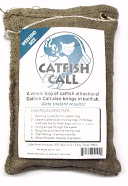 Catfish Call Fish Attractant
(Item #820170)
Help bring the fish to you with Catfish Call.
Catfish Call is easy to use simply leave Catfish Call in burlap bag (in the bag it will last two or three days depending on conditions), string a rope through the eyelet at the top right corner of the sack, drop into your favorite fishing hole, then start fishing. Works instantly! When finished simply dispose properly no mess to clean. Weekend size 3lb. bag. Formulated specifically to attract catfish.
CATFISH CAN'T RESIST!!